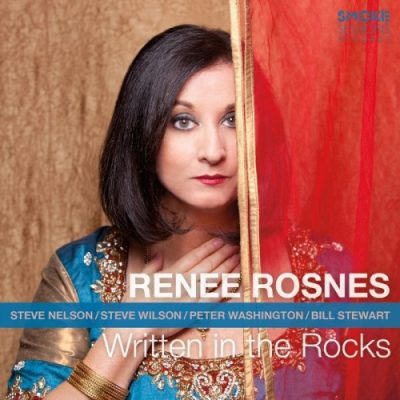 Howard Reich, Chicago Tribune
Rosnes long ago earned a reputation as a first-rate pianist, but with "Written in the Rocks" she affirms her gifts as composer with a fertile imagination and a technique to match. Even if you didn't know that "Written in the Rocks" has specific pictorial and programmatic purposes, its stunning array of instrumental colors, exquisitely refined voicings and lush harmonic palette command attention. Rosnes' score benefits greatly from the contributions of vibraphonist Steve Nelson, flutist-saxophonist Steve Wilson, bassist Peter Washington and drummer Bill Stewart, but it's the inventiveness of Rosnes' concept and writing that stand out.
* * * * * * * * * * * * * * * * *
David Hajdu, The Nation.
A jazz suite about nothing less than the evolution of life on the planet earth, without a note of bombast or pretense. Vital and elegiac. (Disclosure: I have collaborated with Rosnes as a lyricist but had nothing to do with the making of this music.)
"…a richly imagined new album, "Written in the Rocks," that confirms her stature not only as a first-rate pianist but also a thoughtful and lyrical composer."
– Nate Chinen, New York Times
"Written In The Rocks" puts Rosnes up there as one of the most in-flux, fluid, fantastic artists around." – AXS.COM
"The title track features gorgeous interweaving lines between Rosnes and Nelson before Rosnes plays a flowing solo that is overwhelming in its sheer beauty…Let it mark the beginning of a new series of albums featuring this outstanding musician and composer." – JazzHistoryOnline.com
"The result is an important piece of music that her peers and followers will undoubtedly study for years to come." Bobby Reed, DownBeat Editor's Pick
"It's an exceptional achievement. Written In The Rocks establishes – or reinforces – that Rosnes is a virtuoso jazz composer…Advanced yet accessible, complex but never ostentatious, this is as good as writing can get in this setting." DownBeat
"If I wanted to be a great writer, I would make a deal with the devil to be able to tell a story the way Renee Rosnes does, when she sits down at the piano."
– Gary Walker, Morning Show, WBGO