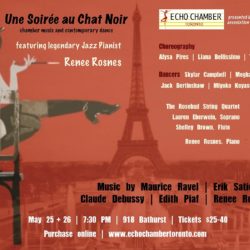 I'm very excited about these upcoming performances of chamber music combined with contemporary dance taking place on May 25-26, 2019 at the Bathurst Center for Culture, Arts and Media, in Toronto. "Une Soirée au Chat Noir" will feature repertoire by Ravel, Satie, Debussy, Piaf, and "Of Mind and Body," a piece in 4 movements composed for string quartet, flute and piano. It will feature some of Canada's leading contemporary dancers.
Choreography: Alysa Pires | Liana Bellissimo | Tara Pillon
Dancers: Skylar Campbell | Meghan Pugh | Jack Bertinshaw | Miyoko Koyasu.

Musicians: Renee Rosnes, piano | Lauren Eberwein, Soprano | Shelley Brown, flute | Rosebud String Quartet (Aaron Schwebel, Sheila Jaffe, Keith Hamm and Leana Rutt)
Echo Chamber Toronto is a performance series that integrates musicians and dancers together on stage for new choreographed works. Merging the intimate dynamic of chamber music with the physical beauty of contemporary dance, ECT delivers the unique opportunity to connect with music not just through listening, but also through movement, interaction, and space. These works will be performed by Toronto's finest musicians and dancers from the National Ballet of Canada, Canadian Opera Company, and Toronto Symphony Orchestra.
For tickets, please visit: