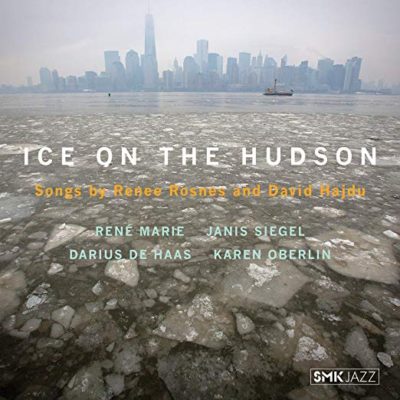 ---
Vocalists
Janis Siegel
Karen Oberlin
René Marie
Darius de Haas
Musicians
Renee Rosnes, piano
Steve Wilson, alto & soprano sax
Seamus Blake, tenor sax
Ken Peplowski, clarinet
Erik Friedlander, cello
Sean Smith, bass
Carl Allen, drums
Rogerio Boccato, percussion
music by Renee Rosnes
lyrics by David Hajdu
1. A Tiny Seed (René Marie)
2. I Used To Like To Draw (Janis Siegel)
3. Trotsky In Mexico (Darius de Haas)
4. All But You (Karen Oberlin)
5. To Meet My Brother (Darius de Haas)
6. The Passage (Janis Siegel)
7. Little Pearl (René Marie)
8. I Like Pie (Karen Oberlin)
9. Ice On The Hudson (Janis Siegel)
10. I Still Feel The Same (Karen Oberlin)
11. Confound Me (Darius de Haas)
Ice on the Hudson features vocalists René Marie, Janis Siegel, Darius de Haas and Karen Oberlin and an all-star ensemble interpreting diverse songs about the emotional complexities of adult life in today's world.
There's a special chemistry that's found only in the rarest of songwriting partnerships, forever linking the names of composer and lyricist in the minds of listeners. The names Renee Rosnes and David Hajdu are already well known to music lovers: Rosnes as one of her generation's most acclaimed jazz composers and pianists, Hajdu as an award-winning author and critic. With Ice on the Hudson, their first collaborative album of songs, the pair reveals a breathtaking synergy, crafting a collection of deeply felt and genre-defying songs that join words and music with alchemical results.
Ice on the Hudson, due outOctober 12 via SMK Jazz (a newly launched imprint curated by Smoke Sessions Records), brings together four magnificent vocalists: revered, GRAMMY® Award-nominated jazz singer René Marie; Manhattan Transfer co-founder and nine-time GRAMMY® winner Janis Siegel, celebrated musical-theater actor and art-song interpreter Darius de Haas; and acclaimed jazz/pop performer Karen Oberlin. Their voices are matched by a stunning ensemble, featuring Rosnes at the piano along with cellist Erik Friedlander, saxophonists Steve Wilson and Seamus Blake, clarinetist Ken Peplowski, bassist Sean Smith, drummer  Carl Allen, and percussionist Rogerio Boccato.
While both Rosnes and Hajdu can boast considerable accomplishments in their respective fields, songwriting was a fairly new endeavor for both. Rosnes had had a handful of instrumental compositions set to lyrics, and Hajdu had collaborated on a few songs with Fred Hersch and others. When Rosnes and Hajdu decided to try writing together, five years ago, "Everything clicked," in Hajdu's words.
"Renee is one of the most gifted, most sophisticated and most creative composers alive," Hajdu says. "I consider myself the luckiest boy in the music world for getting to write with this flat-out genius. We both enjoy the exhilarating thrill of doing something that we care about, that draws on our professional and life experiences, but that provides a whole new set of challenges for us."
For Rosnes, who has long drawn inspiration for her own music from sources as diverse as the natural world and the visual arts, the partnership has given her rich depths of emotion and narrative to plumb. "David is a powerful and compelling storyteller," she says, "and each of his lyrics has many layers and great substance. It's been a fulfilling experience to take his words and search for melodies that truly allow the story to shine through."
Given the tantalizing complexity of Hajdu's words, Rosnes found herself exploring a wide range of sensibilities, never concerned with genre. Ultimately, while some pieces fit comfortably into the jazz songwriting tradition of Jon Hendricks or Bob Dorough, others evoke the world of musical theater or such respected singer-songwriters as Joni Mitchell or Randy Newman. "When I embarked on this project with David, I put the idea of genre out of my mind," she explains. "I was most interested in allowing the lyrics to inspire and move me in whatever direction that musically translated to."
(L-R: David Hajdu, Karen Oberlin, Darius de Haas, Janis Siegel, René Marie, Renee Rosnes)
photo credit: Takako Harkness
"A Tiny Seed" opens the album with a parable both timeless and timely, about a wall-building king and the seemingly small detail that grows to topple his kingdom. Marie's wry, soulful vocal offers inspiration to those hoping to turn such fairy tales into reality. Her serpentine lines bring an exotic mystery to "Little Pearl," a reinterpretation of Rosnes' instrumental "The Quiet Earth."
Siegel's voice seems to float into a whimsical daydream on "I Used to Like to Draw," a tender reminiscence of the childhood days when we all gave vent to our imaginations, before the supposed reality of adult life quashed such fancies. Siegel also sings "The Passage," which takes the natural splendor that inspired Rosnes' instrumental piece "Gabriola Passage" into the realm of transcendence. On the title track, "Ice on the Hudson," she takes the bizarre fact that the Hudson River flows both upstream and downstream as a metaphor for the often contradictory aspects of grown-up reality – one of several instances of complex ideas that stem from the collaboration between two artists with a wealth of life experience.
Oberlin offers a bit of culinary respite from the world's divisiveness on the playful "I Like Pie" and a bit of romantic perspective on "I Still Feel the Same." The moving "All But You" builds from scraps of both songwriters' biographies to paint a picture of living with a missing someone. Rosnes suggested a song based on her experience as an adopted child wondering about her birth parents, which Hajdu countered with his own background. "Renee said it felt strange growing up not knowing who her biological parents were, but my father sat at the dinner table with me every night my whole life, and I don't know who my father was either. We share that feeling of a hole in your life, that there are people who could have been there who were not."
Hajdu based "To Meet My Brother" on the tragic loss of his sister and the feeling of wanting to be reunited, whatever the cost. Darius de Haas brings tender yearning to that piece and an urgent sensuality to "Confound Me." His knack for theatrical drama illuminates "Trotsky in Mexico," a Sondheim-like musing on the Russian revolutionary's fling with Frida Kahlo.