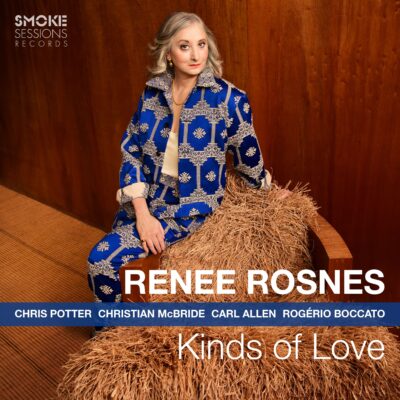 ---
2023 JUNO Award Winner for Best Solo Jazz Album of the Year
Renee Rosnes, piano, Fender Rhodes, vocals
Chris Potter, tenor sax, soprano sax, flute, alto flute, bass clarinet
Christian McBride, bass
Carl Allen, drums
Rogério Boccato, percussion, vocals
All compositions and arrangements by Renee Rosnes
1. Silk
2. Kinds of Love
3. In Time Like Air
4. The Golden Triangle
5. Evermore
6. Passing Jupiter
7. Life Does Not Wait (A Vida Não Espera)
8. Swoop
9. Blessings in a Year of Exile
Liner notes by Billy Childs, June 2021
I first met Renee Rosnes around 1979 or 1980; I was playing in Freddie Hubbard's band and one of the spots we hit was a club in a Sheraton Hotel in Vancouver, BC (I forget the name of the club). After one of our nights there, a young woman—about 18 or 19 years old—approached me and Larry Klein and asked us if we'd like to come down and sit in at this little club called Basin Street. She had a modest and unassuming demeanor, which nevertheless revealed a quiet depth and confidence. After our gig we went down to Basin Street, a small joint where denizens of the Vancouver jazz scene would hang out until all hours of the morning—the place was open from 2-5am. When we arrived there, that young woman, Renee, was sitting at the piano. The first tune I heard her play was Cedar Walton's classic, Bolivia. I wasn't really prepared for the tsunami of brilliant ideas and inventions that emanated from the piano when Renee played: chorus after chorus of ingeniously constructed melodic lines, at once elegant, soulful, and logical. I heard references to Herbie Hancock, Cedar Walton, but what stuck with me was the emergence of an exciting new voice on the piano—her voice. And also her sense of swing, that indescribable joyful dance-like aspect of jazz that can't be taught or faked, was compelling and undeniable. I had a new favorite pianist. I don't even remember what I played when I sat in…
Years later, after she moved to New York and started becoming known as a major voice in the scene (no surprise there), she became a member of the group OTB. By this time, I was playing with Dianne Reeves and in 1987, Renee and I found ourselves on a bus in Tokyo headed to the Mount Fuji jazz festival. During the bus trip, Renee and I sat next to each other; at this point, we were huge fans of each other's work and had become friends. We talked about this and that and then after a while, she pulled out this cassette recording and said, "Check this out." I put on the headphones expecting to hear a heretofore undiscovered Herbie or Chick solo. Instead, what I heard was a recording of an Indonesian exorcism rite—some of the most shocking, surreal, chilling music I've ever heard—it was also strangely and ethereally beautiful. The voices growled, whimpered, screamed, and chanted in complete synchronicity as though the song were imprinted into their DNA. Renee saw the shocked look on my face and smiled. She knew she had thrown me for a loop; it was mind blowing music and a testament to her open-mindedness and breadth of musical scope that she had this incredible recording. I've always wondered where she got it. A few days later, during the festival, Renee and I sat backstage while Herbie, Ron, and Tony played a profoundly beautiful version of "Speak Like a Child." And later that evening, Herbie, Mulgrew Miller, Renee, and I all found ourselves hovering around an upright piano in the hotel. It was an incredible moment of sharing, as we all played something. When it was her turn, Renee played something that was so utterly spellbinding that she moved Herbie, Mulgrew, and me the same way that Herbie's playing moved Renee and me earlier that day. It felt as though the legacy of jazz piano had come full circle.
 * * * * * 
Today, a major voice in jazz, Renee Rosnes stands at the summit of pianist/composers who have left—and continue to leave—an indelible mark on this music. As a pianist, she is an entirely unique and original artist who is, at once, firmly rooted in the legacy and tradition of the jazz piano vernacular, and at the same time a visionary and innovative performer who pushes the boundaries of that very tradition. As a composer, Renee is a gifted storyteller and chronicler of the human condition through her musical works. She is a purveyor of truth and authenticity in her compositions, and she has found that delicate balance between craft and expression—between the mind and the heart. Having recorded ten critically acclaimed albums for the Blue Note label, she ups the ante with this sterling new offering for Smoke Sessions by presenting a kaleidoscope of breathtaking compositions. Assembling a super-group of Olympian level musicians to partner up with on this date—Chris Potter, Christian McBride, Carl Allen, and Rogério Boccato—Renee presents an astonishing variety of musical stories.
For instance, the opening track, "Silk," dedicated to the great pianist/composer Donald Brown, starts out cloaked in mystery with the diminished sounding melody and stepwise bass line over the tribal sounding groove set up beautifully by Carl and Rogério. It then explodes into a hard swinging up-tempo number that conjures the chaotic busy-ness of the New York City jungle, with Chris Potter and Renee offering hard hitting and inventive solos, like two acrobats on a tightrope.
By contrast, the title track, "Kinds of Love," is a paean to compassion—to empathy. I love the structural choice of starting the tune as a trio and then adding Chris Potter's lyrical soprano saxophone for the second half, thus heightening the drama of the piece. Renee's playing here is extraordinary—surprising yet logical and ultimately inevitable. The conversation between her, Christian McBride, and Carl Allen is deep, compelling, and intimate. When Potter enters with his solo, the performance elevates in intensity, until finally the soprano sax takes over the melody. The rhythm section, at the very end, utters a closing plea by emphatically accentuating four bass notes, as though to make an impassioned final argument for peace.
"In Time Like Air" is a musical portrait where I see birds and forests. The music imitates nature in that the ensemble works together to create a sonic environment by interacting with one another, much like creatures and plants in a forest must cooperate and adhere to the rules of nature in order to survive. Renee had heard a particular bird in her yard that sang a unique and interesting song every day for several weeks. Unfortunately, she could not identify the bird, so she never knew what it looked like, but its song is what inspired the melody of her piece. But maybe it's a good thing that she couldn't place the bird. She has instead invented a remarkable musical soundscape just from her imagination, creating an entire exotic world pulsating with strange life, inspired by the unseen bird.
Starting out with a labyrinth of angular melodic lines and thorny counterpoint, "The Golden Triangle" then launches into a medium swing 16 bar form which showcases virtuosic and imaginative soloing from Renee, McBride, and Potter. Named for the predecessor to what is now The Village Vanguard, the piece ends with the same contrapuntal head as it began with.
As I listen to "Evermore," I am struck by its poignancy. This song is an invocation, a meditation of profound beauty and structure. "Evermore" emanated from a Renee Rosnes improvisation based off of a Sarabande from Bach's English Suites, so it definitely has a Baroque spirit to the harmonic progression. But I also hear shades of late romanticism a la Schumann or Brahms. Renee's calm, beautiful, and understated playing throughout serves as kind of a glue binding the whole performance—a constant subtle force guiding the direction of the song. Christian McBride plays an extraordinary, bowed bass solo and Chris Potter's soulful offering transforms his tenor sax into a human voice.
"Passing Jupiter" is a song about space travel. This composition sounds like a happy journey which begins with a lilting, relaxed introduction. The introduction gives way to a two-note motif treated contrapuntally; it's anchored by Chris Potter's bass clarinet, which signals a somewhat sinister or dangerous aura to the proceedings. A high point is McBride's strikingly creative bass solo, which emulates the motion of passing satellites, meteors, stars, or other things you'd encounter on a space journey. This is followed by brilliant solos from Renee and Chris Potter.
The longer I live, the more true the title of the next song is: "Life Does Not Wait." Time passes furtively, without us noticing, imperceptibly stealing the minutes, hours, and days of our lives until one day you discover that you have only the consequences of your past actions to live with—good or bad. The message of this piece is an admonition to value your life in the present—value each moment and try to use it to create happiness and contribute things of real value to the world. The weaving and angular melodic line of the melody floats over the intoxicating rhythmic groove—set up by Rogério Boccato and Carl Allen—with grace and fluidity, and the way Renee negotiates the chord progression during her solo is a study of elegance and finesse.
Swoop is just a straight up swinging tune that starts out with all cylinders firing. It's a conversation, spoken in the language of modern bop, between old friends who are at the top of their game. Starting with an intricate unison line in the melody and continuing with maze-like harmonic progression, over which Renee, Chris, and Christian take masterful solos, Swoop brings to mind four players in a beautiful and complex game.
We all know how difficult 2020 was—a year of COVID, racial upheaval, fires, uncertainty about our future, and political drama. "With Blessings in a Year of Exile," Renee has chosen to make a healing statement on this paradigm by focusing on the positivity in her life and bringing to light what she is thankful for—what blessings are in her life. Still, there is an air of trepidation as illustrated by the dark harmonies and uneasy left hand piano figure, as though to express that our society has not left 2020 unscathed. We still need time to recover.