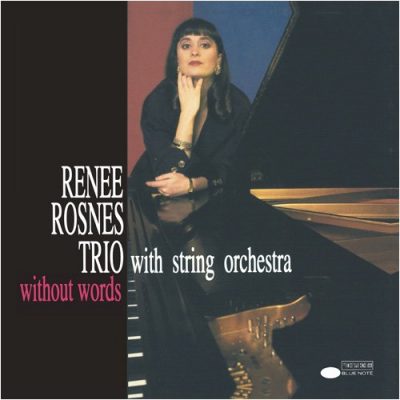 ---
1. You & The Night & The Music (Schwartz/Dietz)
2. Little B's Poem (Bobby Hutcherson)
3. Estaté (Martino/Brighetti)
4. I've Got You Under My Skin (Cole Porter)
5. In A Sentimental Mood (Duke Ellington)
6. Jitterbug Waltz (Fats Waller)
7. Dear Old Stockholm (Trad.)
8. Solar (Miles Davis)
9. Misty (Erroll Garner/Johnny Burke)
String arrangements by Robert Freedman
Conducted by Robert Freedman
Renee Rosnes – piano
Buster Williams – bass
Billy Drummond – drums
String orchestra:
Violins: Gene Orloff (concert master), Matthew Raimondi, Sandra Park, Louann Montesi, Mark Feldman, Mary Rowell, Laura Seaton
Violas: Lamar Alsop, Lois Martin, Maureen Gallagher
Cellos: Frederick Zlotkin, Erik Friedlander
The musical concept of Without Words was that the string orchestra would not be relegated to its usual background role, but share equal footing with the piano trio. Robert Freedman was the ideal arranger for this project, providing innovative, radiant string arrangements that allowed for inspired music making with the trio. An interesting album note is the concertmaster on this session, Gene Orloff, also played on the landmark recording "Charlie Parker With Strings", as well as the historic Bill Evans/Claus Ogerman sessions.
"I first heard Bob's exquisite work on the Wynton Marsalis album "Hot House Flowers," and knew immediately that I wanted to collaborate with him on a project of my own."
– Renee Rosnes